Canyoneering
____________
Canyoneering
Outdoor Education Curriculum
In our Canyoneering program students will learn the fundamentals of traveling through the canyons in the Colorado National Monument while interacting with the unique desert landscape under the guidance of our trained instructors.
No prior experience is needed! There are a wide variety of options depending on the group's ability level. Most of our canyons are non-technical or beginner-level – traveling through the canyon is mostly hiking, with some minor scrambling using hands and feet. We also have an option for a more technical canyoneering experience with climbing & rappelling.
Traveling in these canyon environments pairs well with our Desert Geology and Ecology curriculums. Some canyons have signs of Indigenous human history in the form of Petroglyphs, or ancient rock carvings. We'll talk about the natural and human history throughout the canyon experience.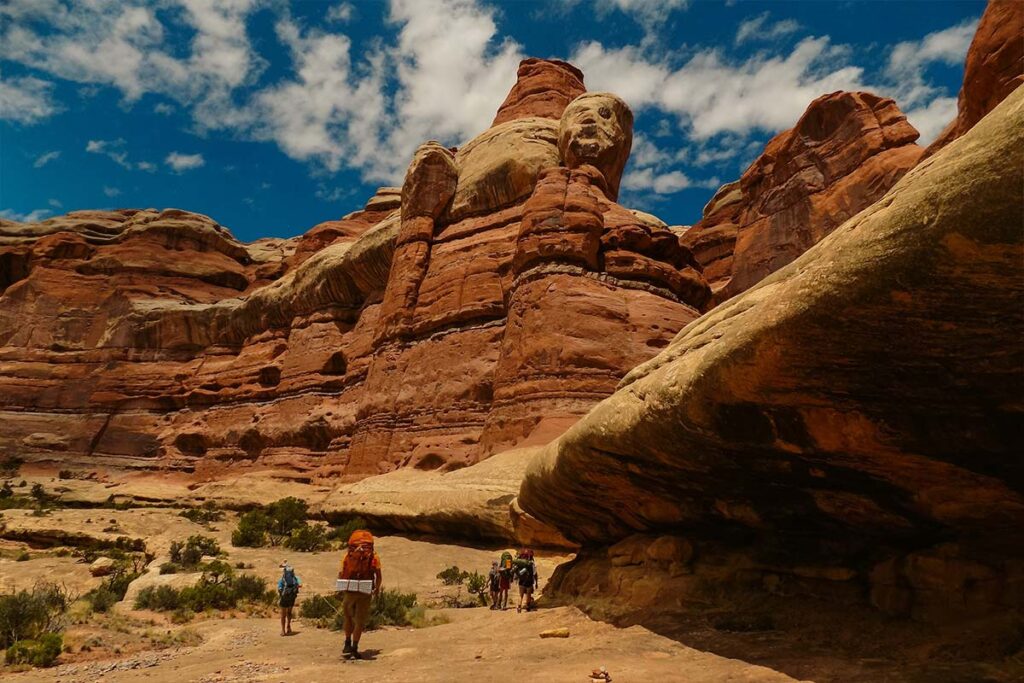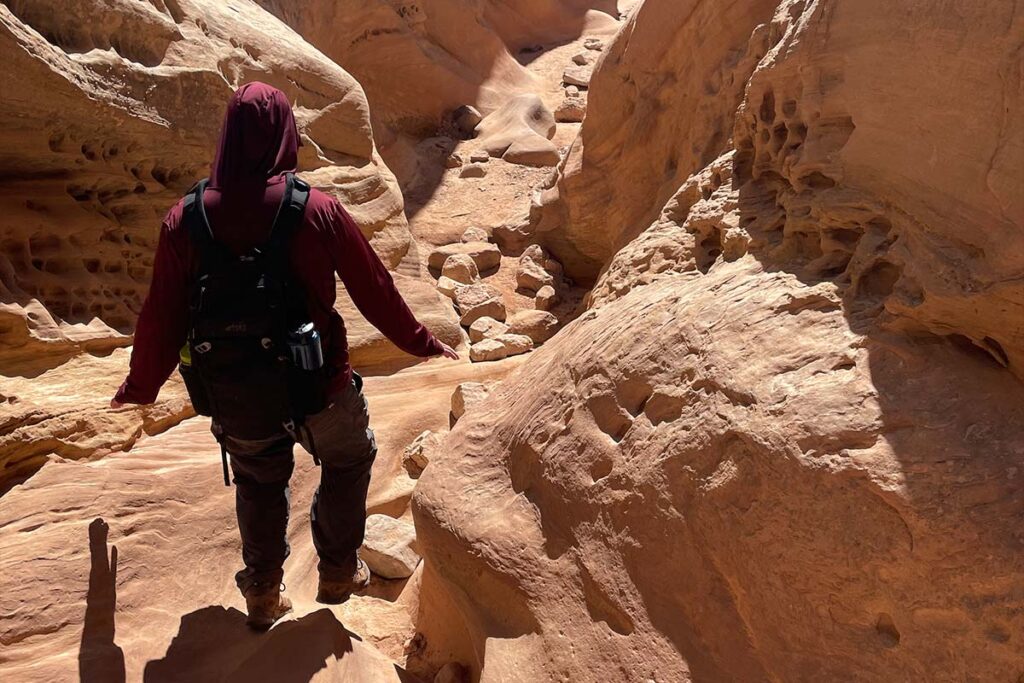 Program Options
---
Option 1
Non-technical (Canyon Hiking)
Our non-technical canyon hikes will immerse the group into an iconic desert adventure, taking us past steep sandstone walls, caverns, canyon streams, pools and waterfalls!
Skills: We have several canyon options that allow us to customize the level of challenge. There are a few steep sections, but overall most of the trail is flat and only requires hiking – no ropes or harnesses needed. Some routes require brief scrambling and ascending and descending a fixed ladder. We can adjust the route length to remove scrambling parts depending on the group's confidence level.
Petroglyphs & the desert ecosystem: The group will get to see petroglyphs (ancient rock carvings), iconic rock formations and rock sculptures. We'll be on the lookout for desert wildlife, including the Bighorn sheep commonly spotted here.
Length: Our canyon hikes range from 4 to 5 miles round trip, and can take a half day to a full day depending on the route.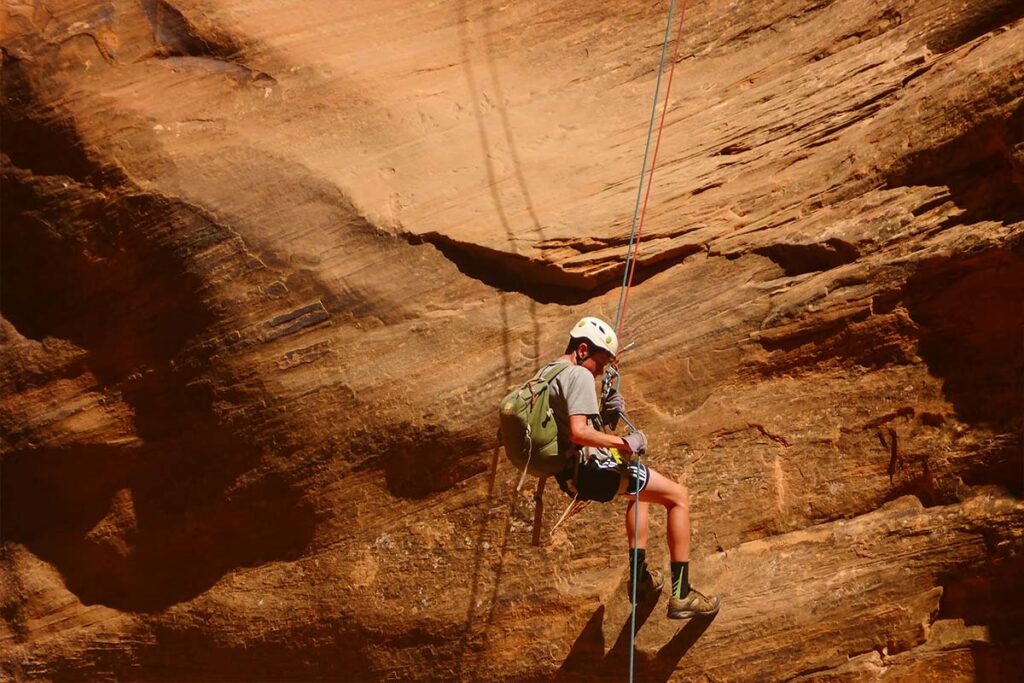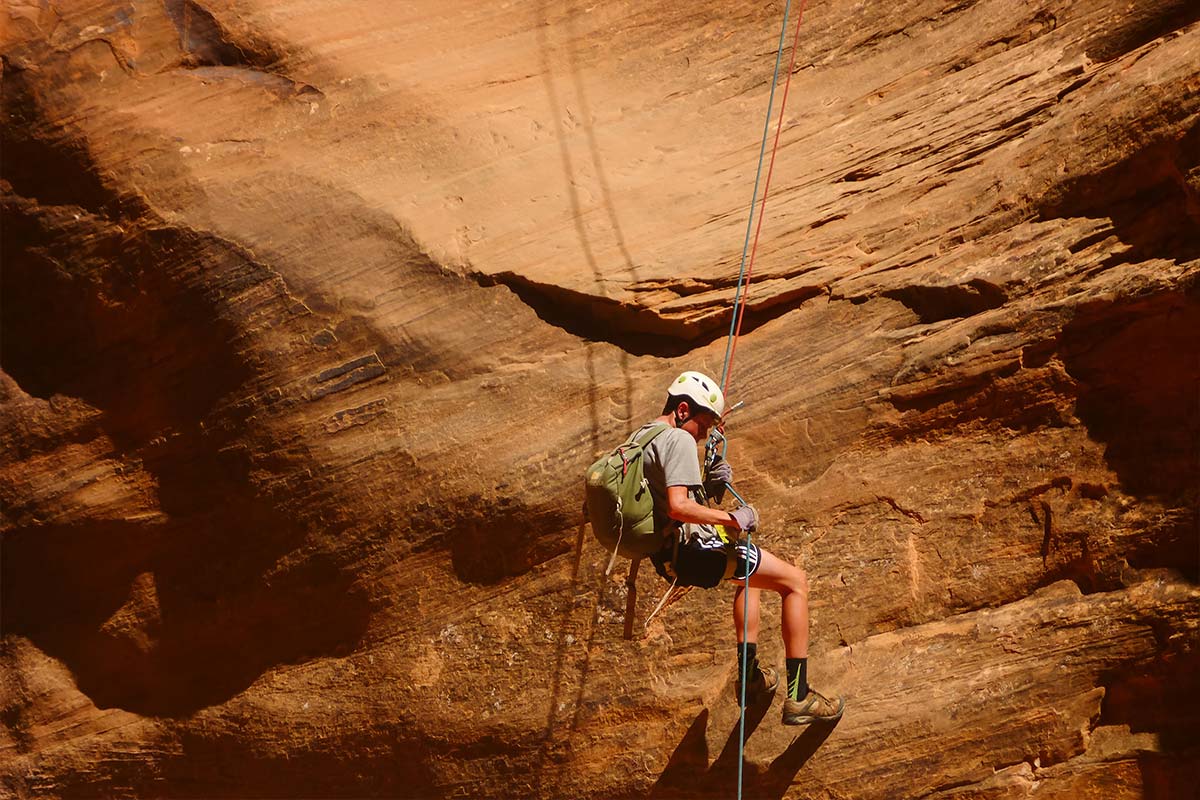 Option 2
Technical Canyoneering
Our technical canyoneering options offer a more challenging route that requires roping up with helmet and harness as the group moves through the canyon chimneys, scrambles, traverses and rock climbs. This option pairs well with our rock climbing curriculum.
Ground School: We'll start with an hour-long introductory lesson before starting the route. Instructors will go over equipment, techniques (including how to perform a rappel) and preparation.
Skills:This route involves hiking, canyoneering, climbing, scrambling and rappelling. A few sections will require students be roped up and belayed by our instructors, allowing students to practice rappelling technique while having the instructor's safety backup.
Length: This route takes 5 to 7 hours.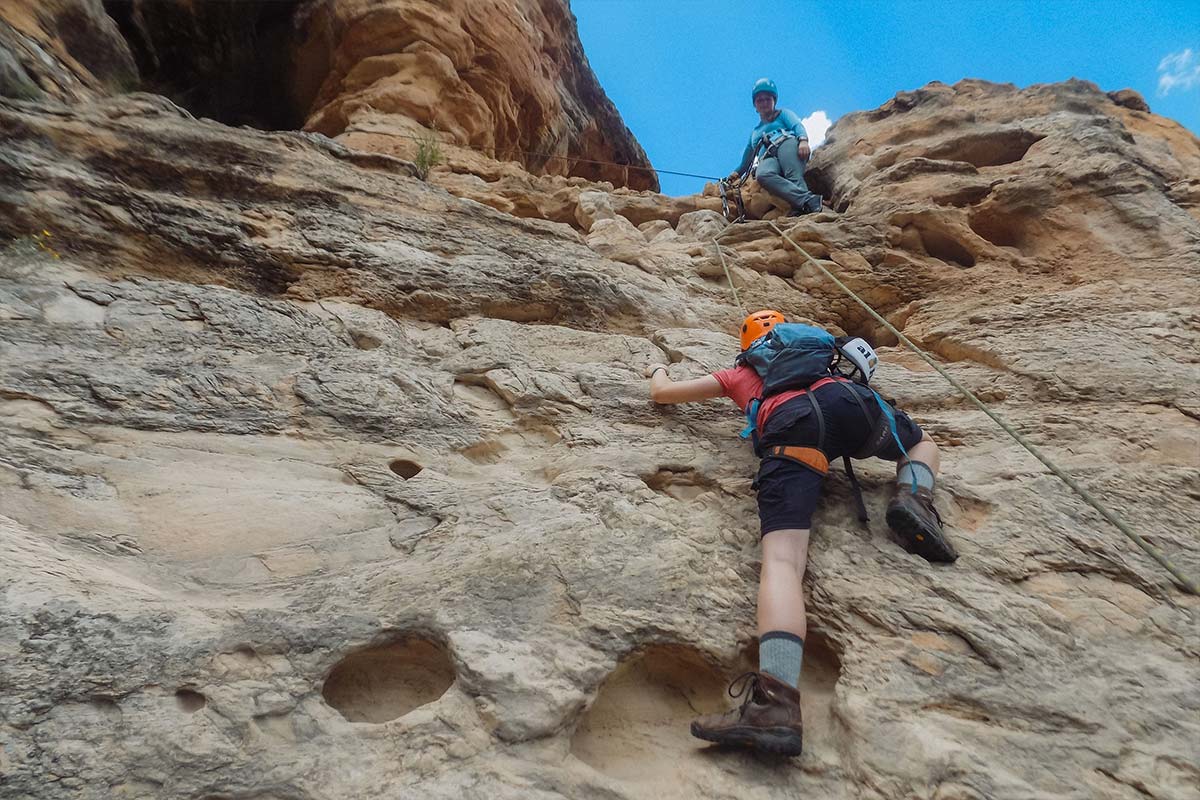 Our Gear
Groups do not need to bring their own climbing gear. We provide all safety equipment, helmets, harness, climbing shoes, rappelling devices, etc.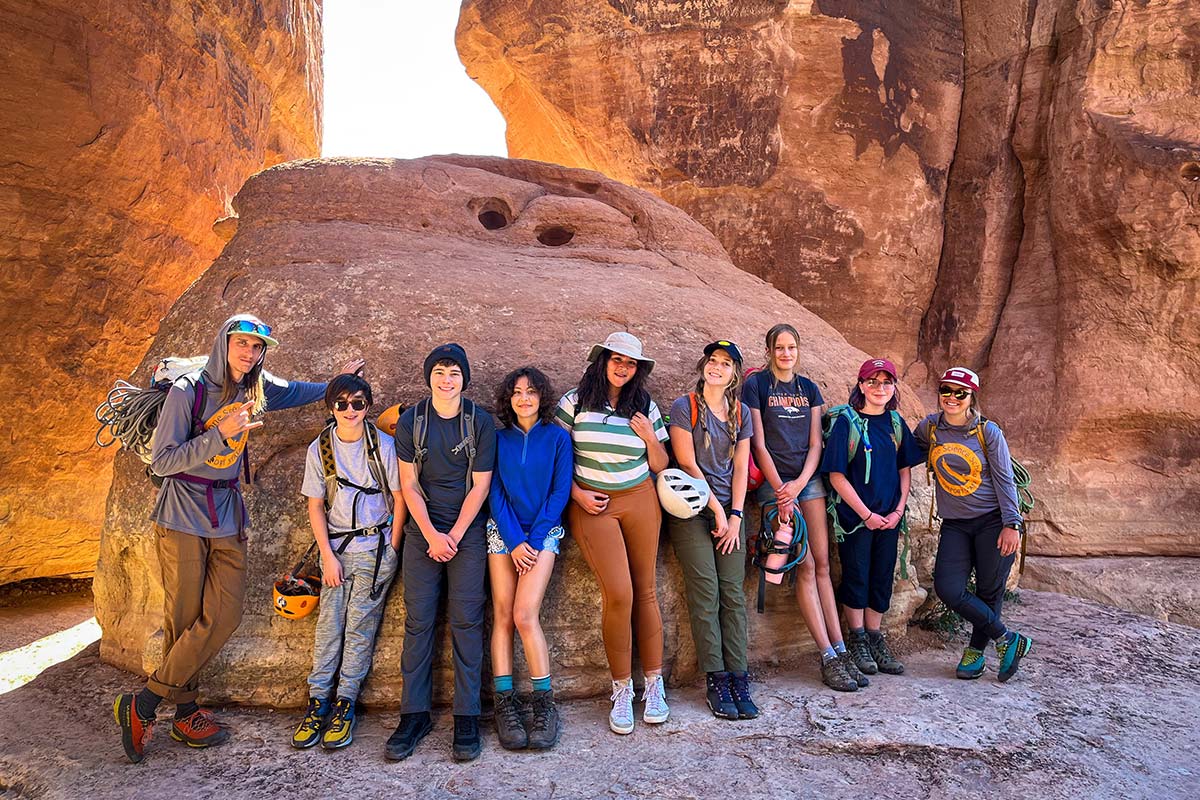 Our Staff
Staff are qualified, safety-oriented, and have industry standard technical canyoneering and rock climbing training. They are passionate about providing an incredible canyon journey.
Risk Management
Our instructors constantly monitor students, checking if they are tied in correctly, perform safety checks and ensure the belay device is loaded properly. Our staff will always be an arms-length away from the rope.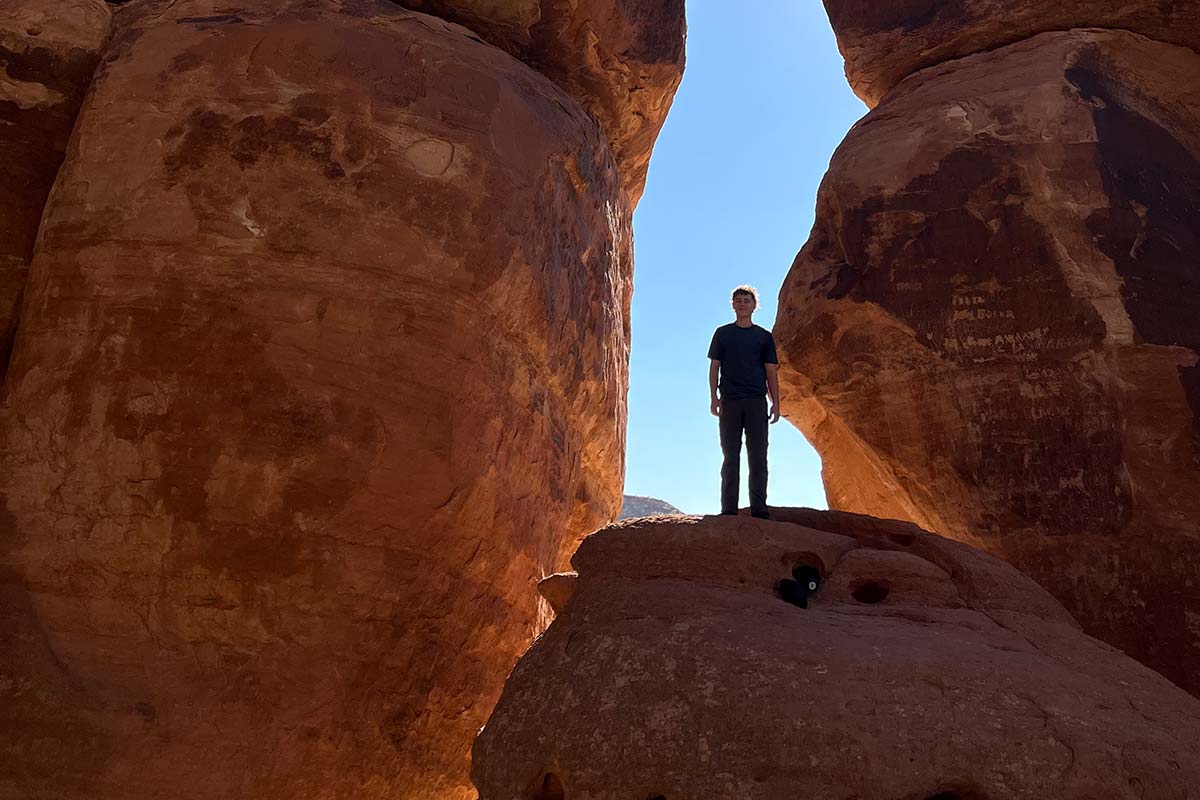 Environmental Stewardship
During the trip we'll discuss access, conservation and preservation. We do trail maintenance when we can and help clean up the canyon environments.