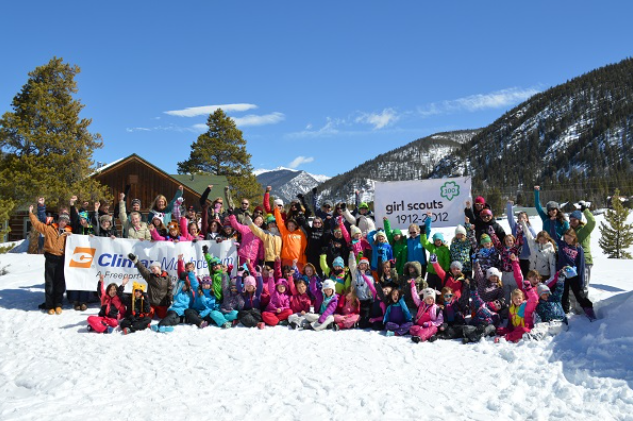 As part of our Community Programs at KSS we frequently collaborate with Girl Scouts of Colorado to offer weekend environmental camps. This letter came to Girl Scouts this spring from a chaperone parent who attended the Wonders of Winter: Snow Science and STEM camp in March with her daughter's troop. We feel so lucky to have the opportunity to work with the Girl Scouts of Colorado's Mountain Communities exposing them to new adventures and the everyday fascinations of nature.
Thanks so much for coordinating (and securing support funding for) the wonderful camp for Girl Scouts at Keystone Science School. We had a truly wonderful time and I think our girls had a really memorable experience.

As you know I was mildly concerned before we went that at 7-8 years of age, our 5 girls (from Brownie troop 14538) might be a little young to truly benefit from the snow science curriculum. However, you were totally right – the team at KSS had carefully tailored their educational program and activities for the different age groups and our girls' interest and involvement was maintained throughout the weekend, and they definitely came away having learned valuable information and skills on how to manage themselves in the winter mountain environment.

The weather was pretty rough on Saturday with plenty of wind and clouds and snow. After a late night getting to bed on Friday night, my daughter, Eva (7), was tired and grumpy and announced during our Saturday field trip that she hated the cold, the snow, and everything about winter. However, after getting to play with interesting new tools, learning about different types of snow, looking at it through magnifying glasses, building snow pits and caves, building model avalanches and watching how they work, and learning how scientists measure snow conditions throughout the winter, she became quite the self-appointed expert! At one point during our Sunday field trip, I sank knee deep and fell beside her. While I laughed and exclaimed at falling in the snow she rolled her eyes and sighed with faux patience and explained knowingly, "It's not just 'snow' Mummy, it's 'melt freeze crust'!" At that point, I knew the camp had successfully pulled her out of her winter attitude funk, and by the end of the weekend Eva announced that it was all "really cool" and that when she grew up she wanted to be a "snow measurer" too. She also told me that she never wanted to leave KSS, and that we should stay for "at least the next 17 weeks" but if we couldn't do that, then we absolutely had to come back for the weekends in April and September, as well as the two-week camp in summer.

Experiences like this that encourage inquisitiveness and boundary-pushing and develop confidence and enthusiasm in our girls is why we joined Girl Scouts. Well done!